Bloom! A Springtime Insight Meditation Retreat
Organizer

Heidi Bourne
707-498-5562
http://www.pacificmindfulness.com


heidi@pacificmindfulness.com



Details
Enjoy 5 days and 4 nights at Heartwood Mountain Sanctuary in the green rolling hills of far Northern California as we explore what it means to inhabit our lives with Intention, Compassion and Joy.
The Spring Equinox is a beautiful and poignant time, emerging from the dark of winter into the light and new growth of spring. It's a wonderful time of year for retreat.
Drawing on both Buddhist and secular perspectives, we'll cultivate the gentle, quiet, spacious awareness of mind, heart and body through the practices of mindfulness meditation, yoga, and group interaction.
Our practices will be supported with extended periods of morning and evening silence. The afternoons include optional group practices with plenty of time to relax, talk with each other, take time for yourself, enjoy a hike or even take a nap. Each evening we'll gather for a talk and guided meditation.
Heartwood Mountain Sanctuary is located 200 miles north of San Francisco, about an hour drive outside of the town of Garberville. This secluded center is tucked into the hills of Humboldt County where peace and solitude abound. With a gorgeous meditation temple, yoga barn, indoor-outdoor dining lodge, hot tub and sauna, it's a perfect place to settle in, unwind and replenish.
The newly renovated modern eco-lodging includes space for shared indoor camping, shared rooms for two, single standard rooms with twin beds in either a dormitory style building, individual cabinettes or bungalows. Upgrades to larger rooms with queen beds are available. The choice is yours. All lodging is supported with shared bathroom facilities.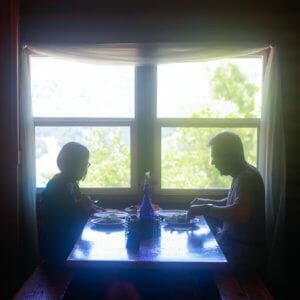 The Heartwood Lodge Kitchen prepares the freshest farm-to-table fare, grown right on site. The culinary staff creates nourishing menus with seasonal farm fresh produce, merging the best of old world haute cuisine and new world innovation. Our first meal together will be Wednesday dinner, and our last meal will be a Sunday breakfast. Snacks, tea and coffee are available anytime. The chef is happy to reasonably accommodate those with food restrictions.
For more information and registration, please visit this link.