Inclusive gathering space for education, business, or celebration
Located on 200 acres, Heartwood Mountain Sanctuary offers a one of a kind destination to gather for your next retreat, celebration, or training. You can get away from it all, while still having access to comfort and amenities. Groups receive a discounted rate for all of our overnight lodging. The Heartwood Lodge and kitchen are available for rent by any catering service you wish to use for your event.  Multiple classrooms can accommodate gatherings, teaching, and conferences. We are proud to offer a unique location to come together in the hills of Southern Humboldt.
main lodge & community hub
eco-lodging
cabins & bungalows
forest and meadow camping
indoor classroom camping
farm fresh meals
catering options for groups
wood fired pizza oven
outdoor patio for music & activities
seasonal saline swimming pool
jacuzzi hot tub
cedar sauna
massage therapists on call
ongoing classes
classroom and meeting space
meditation temple
historic cob house
welcome center & store
Groups will enjoy our large, luxurious cedar sauna, vista hot tub and seasonal saline swimming pool. ​Please be aware that the Lodge Kitchen is currently not serving meals, if you wish you have your event and Heartwood, you will need to provide your own catering service. Our team is happy to work with you to customize an event package for your particular needs.
COOKING & DINING FACILITIES
Currently the Heartwood kitchen is not staffed, so if you are wishing to host your retreat, you will need to provide your own catering service. The Heartwood Kitchen is a certified commercial kitchen, which is available for use by whatever catering service you choose for your event.    Read more about the Heartwood Lodge Kitchen  →
SPACES AVAILABLE FOR GROUP RENTAL
There are multiple options for spaces to rent for your retreat or gathering. The Yoga Barn, the Kiva Classroom, the Sunrise Classroom, and the Temple are the four indoor classrooms on the property.  As you plan your group rental, let us know if you need to use any of our tables, folding chairs, back jacks, zafus, zabutons, and yoga mats in these rooms. Our classrooms are also equipped with WiFi.  Our helpful staff is available to help you set up the classroom for your specific needs. For birthdays and other social gatherings, please inquire about renting our Lodge, Pool, Sauna and Hot Tub.
The remote location of our 200 acre property provides an excellent setting for your group retreat. Heartwood offers multiple lodging options that can accommodate small to large groups.  Our amenities include a seasonal pool, year round hot tub and sauna, hiking trails, meditation temple, and much more. The Heartwood Welcome Center carries snacks, beverages, and basic supplies.  For those who would like to cook for themselves, there are two community kitchens. Our natural setting and conducive environment creates one of Northern California's most unique retreat centers.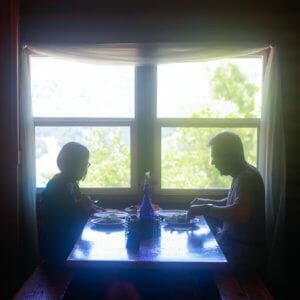 Interested in hosting a group or event at Heartwood? Send us a note.
I did a 7 day movement meditation retreat at Heartwood. The program was amazing, the food was amazing, I loved the accommodations overall: Everything was perfect! I highly recommend Heartwood Mountain Sanctuary!
–Gwendolyn McClure, Ph.D. Clinical Psychology 2020
Heartwood offers a soul-filling oak woodland mountain retreat setting. Staff cultivate an atmosphere of nourishment and care. There are few places I'd rather be. 
-Event Participant, October 2021
Had a wonderful experience at Heartwood. They brought in a guest chef and food was incredible. Heaters in the rooms, even had the room heated before we arrived. This meant a lot as we were there on a cooler, rainy weekend. I loved how all the living quarters were dispersed throughout the property. Property itself is incredible. The wildlife was all around and added to the already incredible experience. Would absolutely come back.
-Event Participant, October 2021
An amazing place to gather and learn❤️  Beautiful site and wonderful accommodations!
-Event Participant, December 2019

Heartwood is a rare gem.  What a divine experience-collaboration of creativity and commitment and care for the whole body and soul adventure.
– Teacher, Spring 2019

I love coming to Heartwood! I always learn so much and the people are welcoming and so helpful! Two thumbs way up!
– Student, Spring 2016

Heartwood touched my heart.
Wonderful people in a magical place making incredible things happen.
– Student, Spring 2016

Heartwood is a unique space where potential, positive intention, informed direction and open hearts and minds converge.  It provides students, staff and teachers a chance to collaborate and problem solve. Truly a model for community and education.
– Student, Spring 2016
Amazing spa/sauna/showers/bathroom facilities. The temple is amazing and the staff were so nice. We camped and enjoyed the trails and hot tub. Highly recommend if you like to camp/glamp. It is far off the beaten path but if you know this going in it is nothing to worry about, just a little extra slow driving. We would 100% go again. Thanks Heartwood!
-Hipcamp Guest 2021
Heartwood Mountain Sanctuary is the perfect environmental setting in nature for a Retreat. The accommodations are very comfortable, the vegetarian food is excellent, and the staff is friendly and courteous. An delightful experience that you will never forget.
-Event Participant, October 2021
Heartwood is a sacred place to me. I've been there for two retreats, and have really felt rejuvenated and reaffirmed in my life. The setting, the views, the perfect balance of comfort and simplicity, the animals, trails, wildlife, trees, and most of all– the temple– are all parts of this experience for me. Having access to the kitchen any time I need it is great, and the fact that it's so intimate and basic– but rich in what matters (great food, great humans/staff, great nature)– is what makes this place so special.
-Event Participant, October 2021
Heartwood is one of the most beautiful places I've had the pleasure of visiting. The rolling hills and nightly fog were stunning – especially when observed from the hot tub and sauna. The staff were absolutely top-notch, and the facilities were perfect. I can't wait to come back.
-Event Participant, December 2019
This place, in the middle of nature has so much magic and beauty.  It seeps out of everything.  The people, the buildings, the animals that wander it, the food… it is truly a special place to be.  Thank you for sharing it with me.
– Retreat Participant, Spring 2019
The facilities were spectacular! The sauna is the most beautiful I've ever seen. The family feel made the experience wonderful. I can't stop raving about the food. My only complaint is that my stomach wasn't big enough.
Thank you!
– Retreat Participant, Summer 2017
Such an amazing place!
I can't wait to come back!
– Retreat Participant, Summer 2017

Amazing food, fun people and
wonderful instructors. 
– Student, Spring 2016
220 Harmony Lane
Garberville, CA 95542
Stay at Heartwood
(707) 923-5000
Welcome Center Open
Mon-Sat 12-5pm