Comfortable and luxurious backcountry accommodations
Heartwood offers a variety of ways to stay with us. Choices range from a Madrone King Ensuite to a campsite in the middle of the forest. All of our lodging options have beautiful surroundings that invite you to return to nature. Deer, turkeys, and other wild animals are often seen and heard by guests. The 200-acre property is the perfect location for a weekend getaway, your next group event, or select from one of the many programs or retreats we offer throughout the year.
King and Queen suites in Madrone
The Madrone Building is located in a forested section of the property. The nine earth conscious rooms have cork floors, simple furnishings, desk, and a wrap around covered walkway. Beautiful tile work adorns the four shared toilet rooms and two shared shower rooms within the building. These rooms are double occupancy with your choice of a Full, Queen, or King sized bed.
The Sunrise Building is located between the Straw-bale Meditation Temple and the Yoga Barn. The three rooms have cork floors, a desk, and a bookcase. The shared bathroom has two toilets, two sinks and two showers can be accessed in the center of the building. Also located in the Sunrise Building is the Sunrise Classroom, which is a large space for classes, meetings, and retreats.
Rooms range from $112 – $165 per night plus tax.
Weekly discounts available.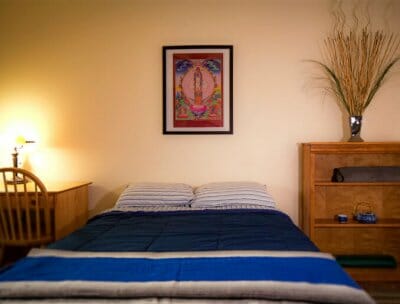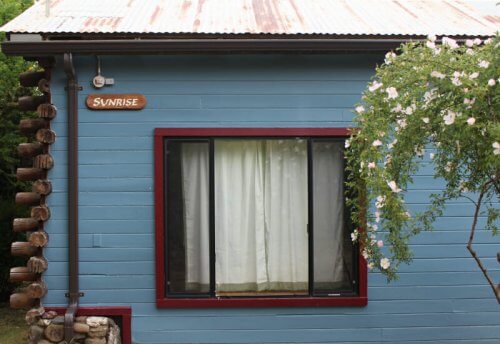 Nestled in a forested grove on the lower portion of the property, you will find the Bungalows. Our stand-alone cabins offer a full-size bed in the loft, a desk, bookshelf, and covered porch. The Bungalow Bath House is nearby with an outdoor shower and indoor double vanity sink. The toilets and laundry room are a two-minute walk down the road to the indoor Manzanita Bath House. The Lodge, Sauna, and Hot Tub are a 5-minute walk uphill.
Bungalows and Cabinettes start at $95-$135 per night plus tax.
Monthly discounts available.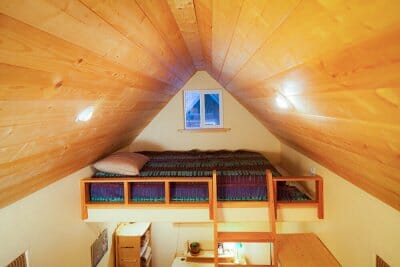 Manzanita Bath House is available for guests staying on the lower portion of the property, including Manzanita Rooms, Bungalows, and camping areas. There is a men's side and a women's side, offering on each side two showers, one toilet and a sink. The Bath House is located next to the Manzanita building.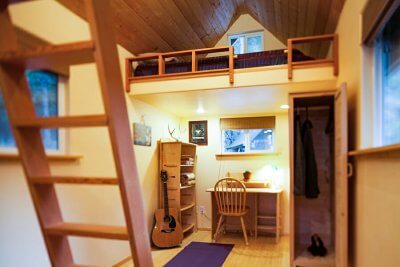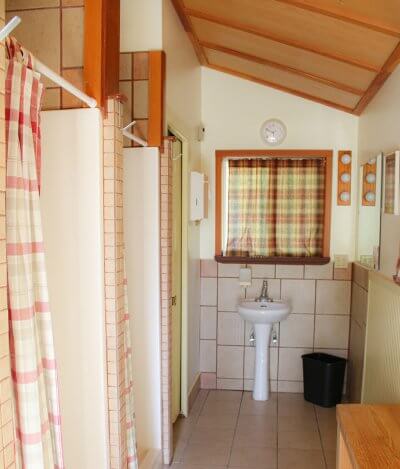 The Cabinettes are stand-alone tiny cabins located next to the Ceramics Yurt. They are simply furnished with a bed, desk, lighting, outlets, and a covered entryway. The Lodge, Hot Tub, and Sauna are just a short walk away from these cabins.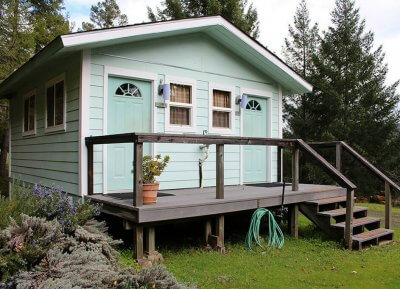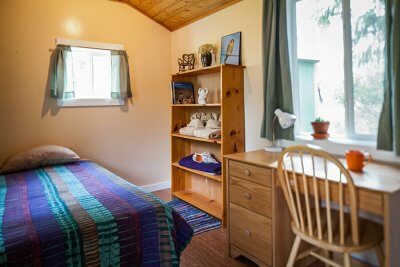 main lodge & community hub
dormitory style lodging
cabins & bungalows
forest and meadow camping
indoor classroom camping
Welcome Center & Store
catering options for groups
outdoor patio for music & activities
Campsites start at $26 per night plus tax.

swimming pool
jacuzzi hot tub
cedar sauna
massage therapists on call
ongoing classes
classroom and meeting space
meditation temple
historic cob house
Across our property are 25 campsites for you to choose from. We have Douglas Fir woodland campsites, Madrone forest campsites, meadow campsites and more. We also allow you to camp in your vehicle on our property for the same rate. When you check in at the Welcome Center we will help you find the best spot suited to your needs. All campsites are located a short distance from shared toilets and showers, with minimal amenities onsite.  Campers should bring all necessary camping equipment. 
Campsites are $36 per night plus tax

Frequently Asked Questions
What dining options are available?
Guests are welcome bring their own food and use the Community Kitchens near the Main Lodge and at the Manzanita Building. These are communal kitchens, so we ask that you keep the spaces clean, put items away after use, and store your items in boxes with your name clearly marked on it.
The Heartwood store has some frozen items, but we recommend that you do your shopping in town before you head up the hill to Heartwood. Please be advised it is a 45 minute drive to town, so it's best to have everything you need before you come for your visit.  There is also a
small general store 20 minutes
from Heartwood that has many food items as well.
The Heartwood Lodge Kitchen provides meals for Group Rentals and Special Events.  Please check
our calenda
r for current offerings, and then
call the Welcome Center
to make your reservation.
What should I expect if I am staying in lodging?
We provide towels, sheets, and blankets. You must request your room to be cleaned during your stay. Also, to respect your privacy and reduce water usage, laundry is not washed during your stay unless it is requested.
What should I bring to Heartwood if I am camping?
Please bring camping gear (tent, sleeping bag, sleeping pad), towel(s), and a reusable water bottle––please note, the pool, sauna, and hot tub do not allow glass. Please also bring all food with you as there are currently no food being prepaired at Heartwood, We do have a community kitchen that you can store and prepair your food.  The community kitchen contains a variety of cookware and dining ware for your convenience. 
What not to bring to Heartwood:
Please do not bring any sage, incense, candles, camp stoves, sparklers, fireworks, or guns.
Can I smoke at Heartwood?
If you do smoke, please smoke in the designated smoking areas, which are mapped in the guest manual or please ask any one of our friendly staff members and we can show you.
Can I bring my bike?
The dirt roads at Heartwood can be steep and slippery. We don't recommend you bring a bike for your stay. 
Are the Pool and Sauna included with room?
Yes, all overnight lodging guests receive a complimentary pass to the Pool and Spa area during their stay. You will have full access to our outdoor swimming pool (seasonal), hot tub jacuzzi and cedar sauna, as well as outdoor shower and ADA-accessible bathrooms. Bring your own towel or rent one from the Welcome Center for an extra $5.
Can I stop by just to use the Hot Tub and Sauna?
Yes, we have day passes for $20, this covers the sauna and hot tub year round as well as the pool when it is available from May-October. Please stop by the Welcome Center from 12:00 - 5:00pm.  Please call ahead to check if we are open. 
What are the Welcome Center/Store hours?
Summer Season:  March 15th-October 15th --- Monday thru Saturday from 12:00pm - 5:00pm
Winter Season:  October 16th - March 14th --- Friday thru Sunday from 12:00pm - 5:00pm 
Is there wireless internet?
Wireless internet is available in 1GB increments for $10 per GB for nightly and weekly guests. We charge by data usage rather than a daily fee, due to our remote location, and the limitations of our provider, this is similiar to cell phone plans.  Please be advised that due to our location, our wifi speeds may not be what you are used to, Heartwood has a very limited internet capacity, activity such as streaming video&audio, wifi calling, and file downloads, may not have a quality and speed required to function properly. 
Can we book a massage or other therapeutic treatments?
Yes, we keep a list of preferred massage therapists at the front desk. Please call 707-923-5000 to book your appointment.
Can we attend classes and workshops while visiting?
What type of weather conditions should we pack for?
Please come prepared for warm days and cool nights. In the winter months, we can experience snow and cold rain, so you will want to pack layers to keep yourself warm and dry (jackets, hats, gloves, waterproof boots, etc). In the summer, we experience temperatures ranging from 80-100 degrees during the day and cooler temperatures at night due to the coastal breezes and fog that move in through the valley. Heartwood's property is steep and requires good hiking shoes. Sandals also work, but if you wish to have sturdier footing and supported ankles, definitely bring your hiking boots for trekking around campus!
Is Heartwood open year round?
Yes, we are open year round, although during the winter months we have shorter hours and scaled back offerings. The pool is open May - October (weather dependent), and the sauna and hot tub are open Monday thru Saturday in the summer, and Friday thru Sunday in the winter. Driving up our mountain roads can be more difficult in winter, so please be aware of weather conditions. If you have any road or mountain weather questions before your trip, please feel free to contact us.
Are you handicapped accessible?
Yes. Although the Heartwood property is steep and mostly unpaved, we do offer handicapped accessibility. There is an ADA room with private bathroom in the Madrone dorm (#32), ADA parking, access and showers near the sauna and hot tub area and an ADA entrance to the Main Lodge. Please call the Welcome Center at 707-923-5000 and let us know how we can assist you during your visit.
What is your pet policy?
Heartwood is a wildlife sanctuary and is unable to accommodate visiting pets. Please honor our No Pets Policy by leaving your furry family members at home.
220 Harmony Lane
Garberville, CA 95542
Stay at Heartwood
(707) 923-5000
Welcome Center Open
Mon-Sat 12-5pm